APPROVED AND RECOMMENDED BY GERMAN VEHICLE MANUFACTURERS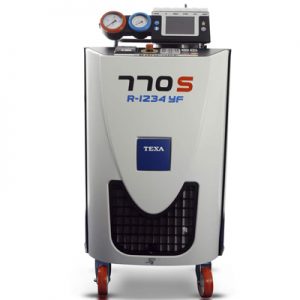 The KONFORT 770S implements exclusive technological solutions to adhere to the specific German vehicle manufacturer requirements, with regards to safety and reliability under the European legislation for the new refrigerant.
The KONFORT 770S service station has been included in the prestigious ADI Design Index for 2012 as an example of excellent Italian design. The index is published annually by ADI, the Italian Association for Industrial Design.
IMPECCABLE PRECISION
The internal unit has been designed to ensure the service procedures for the unit are simpler with regards to oil changes or filters. The refrigerant tank is mounted on robust electronic scales with a locking system that prevents changes in calibration during transport or when moving around the workshop.
The KONFORT 770S is equipped with an automatic leak control system, linked to EN837 Class 1 certified gauges with an impeccable precision. The refrigerant scales guarantee that errors will not exceed +/- 15gr.
TOTAL SAFETY
As far as safety is concerned, as soon as the service station is opened for inspection; a micro-switch system automatically locks electrical components.
An emergency stop button has been added to the control panel which turns the machine off stopping all processes in progress. The entire upper console can be turned in order to be viewed, without having to move the whole service station (not-available in the German market).
The components used such as the innovative recovery group have exceptional features and they guarantee refrigerant recovery of over 95%.