Air Conditioning Installations, Service and Repairs Bridgend, Swansea, Cardiff and throughout South Wales
As air conditioning specialists, we are equipped to provide our customers with all aspects of air conditioning installations, service and repairs throughout Bridgend, Cardiff, Swansea, Newport and South Wales. We install, service and repair all types of air conditioning systems and our competitive prices, coupled with our clean and efficient service, has earned the company an enviable reputation over the years.
Air Conditioning for Conservatories
Due to their large areas of glass, conservatories can quickly become unbearably hot in the summer months and can be too uncomfortable to sit in for any longer than a few minutes. They can also become uncomfortably cold during the winter months which renders them unusable for a considerable part of the year.
We can supply and install a reverse cycle heat pump that can solve this issue for you by providing the ideal temperature all year round. 'Cooling' for the summer months and very affordable 'Heating' during the winter months. This makes it possible to fully utilise your conservatory all year round.
Air Conditioning for Bedrooms
Air Conditioning in bedrooms has become very popular over recent years. With ever-increasing temperatures making a good night's sleep almost impossible, air conditioning in the bedroom provides the perfect environment. No more need to open windows in the hope for a cool breeze, no more street noise disrupting normal sleep patterns. An air-conditioned bedroom keeps the temperature just right and the new advances in technology provide 'whisper quiet' operation. Once you have one installed, you will wonder how you ever managed without it
Air Conditioning for Living Rooms
Does your living room become uncomfortably warm or humid, especially during the increasingly warm summers? Well, things are likely to get even worse in the future as global warming continues its upward trend. An air-conditioned living room will provide a comfortable climate for you and the family to enjoy.
There are numerous systems on the market nowadays, perfectly suited to all these varying environments, so please don't think you have to have one of those 'boxes' on the wall. Far from it, please see below some of the different systems on offer today, some of which are very well concealed indeed.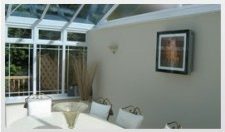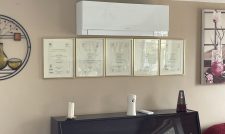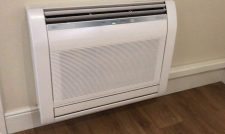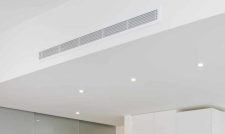 These systems have a high coefficient of performance (C.O.P.) of around 3.5 to 5.5 which makes them very efficient. This method of heating and cooling your conservatory is far more efficient than conventional methods such as gas or electric. Heating or cooling is provided within a matter of minutes, which means that there is very little delay between switching the system on and enjoying the comfort it provides.
Most systems these days are either 'WiFi ready' or 'WiFi enabled', the difference is that Wifi enabled systems have the Wifi module built-in and is ready to connect to the manufacturer's APP. WiFi ready systems require a module to be installed as an optional extra. If you are likely to require the WiFi capability, we would recommend opting for the 'WiFi enabled' systems as the add-on WiFi module is very often required to be mounted externally on the case of the unit which is not as aesthetically pleasing.
Air Conditioning in Offices
Air conditioning is an ideal way of controlling the air quality inside any building, large or small. Not only does it cool in the summer months but air conditioning can also heat, replacing traditional heating systems. More and more people today are experiencing the benefits of comfortable working, living and leisure environments made possible with air conditioning.
Offices today are packed full of computers, printers, photocopiers and other electrical equipment, all of which generate a great deal of heat. Combined with increased insulation standards and airtightness of modern offices, you have a huge cooling challenge on your hands. Effective climate control is therefore crucial in order to maintain a comfortable environment in which to work.
It is also scientifically proven that accidents tend to occur more frequently during extreme temperatures – the optimum temperature appears to be about 20°C. Mental performance and work rhythm drop off sharply when it is too hot. Obviously, the provision of a constant environment is subject to many influences. For a building to operate comfortably and efficiently, due attention must be paid to its services.
Our team of engineers provide a comprehensive installation, maintenance and repair service throughout South Wales and England which can help you achieve a comfortable working environment.
Air Conditioning Service and Maintenance in South Wales
Red Dragon Air Conditioning Ltd provides high-quality service and repair to its customers at very competitive prices. Our thorough approach to providing a high standard of service has gained praise from all of our customers who continue to use our services year after year.
The environment in which the air conditioning or refrigeration systems is required to operate will ultimately dictate the frequency at which servicing intervals should take place. If the system requires servicing more than once each year, we will provide a discounted rate for any additional servicing requirements.
Please call us for a no obligations quote on: Bridgend 01656 743661