TEXA KONFORT 744R
The perfect solution for servicing and recharging the new CO2 air conditioning systems.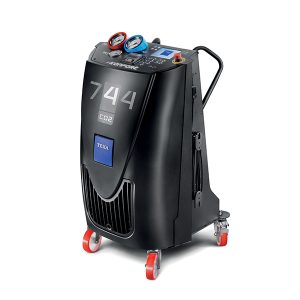 TEXA is universally recognised as one of the undisputed leaders in equipment for garages and vehicle repair shops.
TEXA's product range includes diagnostic tools, exhaust gas analysers and air conditioning system servicing and recharging stations. In particular, TEXA is recommended by many of the most prestigious European vehicle manufacturers.
TEXA's strengths reside in high-tech production processes, robustness and quality finish. The new station therefore conforms to the strictest industry standards governing air conditioning maintenance and recharge systems for the new R744 (CO2) refrigerant.
These new systems are intended to minimise pollution and to reduce the risk of fire in the event of leaks, and are radically different in design from previous generations of recharge station that used R134a and R1234yf refrigerants. In particular, because the new systems are designed to function at high pressures, dedicated recharge stations are needed to work with them.
The KONFORT 744R implements a range of innovative solutions and differs from the other models in the KONFORT Series for the fact that it is designed and made specifically for use with the latest A/C systems that use R744 (CO2) as refrigerant.
Despite its advanced design, however, the KONFORT 744R is just as easy to operate as its more conventional counterparts dedicated to R134a and R1234yf refrigerants.
The station is fully automatic and able to complete the recharge cycle without any assistance from the operator.
It also achieves the highest possible levels of precision. In fact, the quality of its components and the accuracy of its design permit recharging to be completed to a maximum tolerance of only 10 grams (2 grams for oil).
Special attention has also been paid to the system for releasing CO2 into the atmosphere. Release takes place in a controlled manner to ensure the safety of the operator and of the system itself.
The KONFORT 744R also incorporates an accurate system for measuring the concentration of CO2 in the surrounding air, and suspends charging if this approaches a dangerous level.