THE IDEAL SOLUTION FOR RECHARGING ONLY R134a
DEDICATED TO MECHANICS THAT WORK ON UNEVEN GROUNDS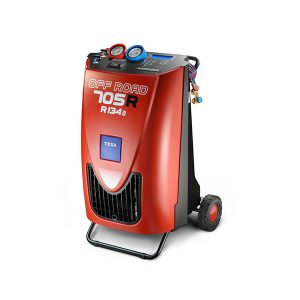 The KONFORT 705R OFF ROAD, has been developed by TEXA for the Agri and OHW
sector. This service station for the R134a only, is derived from the KONFORT 705R and is
dedicated features for technicians who work in outdoor environments.
It is equipped with large rear wheels filled with a special anti-puncture foam with a solid
metal bar replacing the front wheels.
These modifications ensure manovurbilty and increase stability during use. Another design detail especially for outdoor use, is the scale locking system that protects the load cell from calibration inaccuracies during transport.
Package Includes:
Texa Konfort 705R 'Off Road'

Thermal printer

2 year parts warranty
FREE DELIVERY (UK Mainland – Exclusions may apply) please call 01656743661